What is CNC Router 3D Scanner Price and 3D Scanning Machine Cost?
CNC router 3D scanner, also been called 3D scanning machine, cnc scanner, is a 3d modeling tools for cnc machining jobs. For friends from cnc machining field, cnc scanner price must be the most concerned issue. So what is the cost of this cnc router 3D scanner? General speaking, the price of 3D cnc scanner range is from USD6000 to USDUSD12000 according to different configuration.


3D scanning machine is a kind of accessory equipment of cnc machines. It analyses a real-world object to collect data on its shape and possibly its appearance. The collected data can then be used to construct digital three-dimensional models in the software FlexScan 3D and GeoMagic which are provided together with the 3D scanner.
What benefit can cnc router 3D scanner give us compared with traditional way of 3D modeling?
As every cnc operator knows, traditional way for 3D model creation is to draw it in CAM software like ArtCAM or JD paint. But the 3d scanner makes this job much easier than using software from two points:
1) It takes about several days to finish a 3d model if you using the CAM design software; but it only takes several hours and possibly less than one hour for cnc router 3d scanner to create one piece of same model.
2) To use the software to make models, you have to first learn how to use the software and this course needs two or three months; but the course to learn how to use cnc router 3D scanner only needs 3 or 4 days for a beginner.
If you want to order 3D scanner for CNC, please click below picture.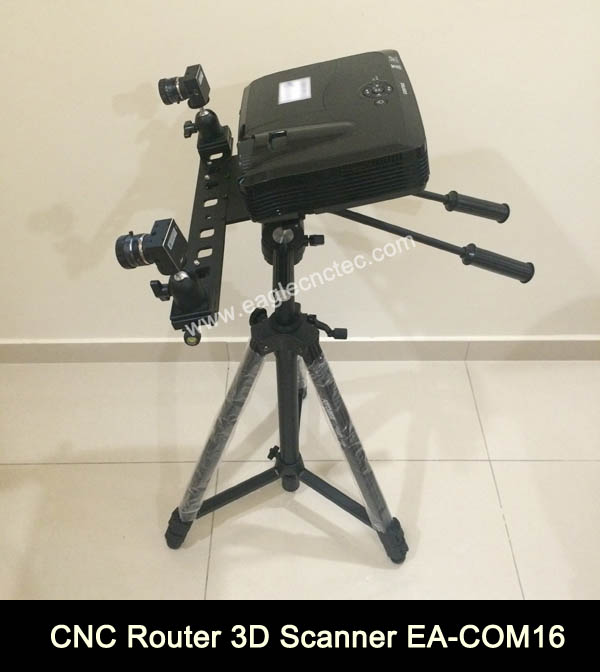 Want to understand how it works? Please see the video in below.


Features
CNC router 3D scanner are usually tripod mounted. Scan data is obtained shot by shot, as a grid of light is projected and laid over the component being scanned. As a scan is completed the grid is modified, and the cnc scanner determines the 3d coordinates by calculating the returned patterns.
Application
To create 3d models in industry like mold making, sculpture, furniture, art works, cast industry, shoes making and more.
Please see more photos of this cnc router 3D scanner via below photo show.


CNC router 3D Scanning Machine Introduction:
1.) Portable design: Small size, small footprint, no noise easy to disassembly and installation, very convenient to carry.
2.) "One-click" marks all points automatic splicing: Automatic splicing times of scanning data, the process is complete with "one-click". Without manual intervention, no third party software, to ensure that the data does not appear stratified phenomenon.
3.) Non-contact scanning: Measurement without contact with anything, can easily measure the soft, easy to deformation objects; And can move 3D scanner when scanning large heavy objects, there is no limit to the trip.
4.) The noise of the point cloud processing and trim: Can pruning and eliminate noise during scanning and at the end of the scanning. Due to use of high-end industrial lenses and original software de-noising module, can overcome the domestic like product cannot solve noise and floating point problem, save your post-processing and modification time.
Specification
1) Double 1.3M or 3M MV Camera made by Germany.
2) Machine vision camera lens made by Japan.
3) Projector made by USA/Taiwan
4) Tripod made by Taiwan
5) Photogrammetry Data Alignment
6) Size per frame: 320×240mm/f[M] 480×360mm/f[L]
7) Object size range: 5mm-5000mm
8) Precision: 0.02mm
9) Mesh: 0.07-0.15mm
10) Net weight 7.5KGS
Origin article from Jinan EagleTec CNC Machinery Co.,Ltd.
Repost please indicate the source.





【 Go Back 】 | 【 Print 】 | 【 Close this window 】