How to Choose Between Richauto DSP and NcStudio? | FAQ
Undoubtedly, Richauto DSP and Ncstudio are the two most popular cnc controllers used on basic cnc router and multi spindle cnc router machines. And the CNC controller is one of the most important part for the cnc router. A suitable cnc motion controller will provide you with a lot of convenience in the use of the cnc router. Therefore, how to choose when we face these two kinds of CNC controllers, Richauto DSP or Ncstudio? If you have the same questions, please see below.


Richauto DSP controller, is also called handle controller. This is because Richauto controller is handle type cnc motion controller. The handle type control system works independently and does not need to work with a computer. In other words, cnc router operator controls the cnc router machine directly via the cnc controller, not by a computer. We make design and generate G code file in our office. Then we copy the file into U-flash and input the U-flash into the Richauto DSP controller interface. Now the machine can be run with the G code. You can see, the handle type controller works alone, no need via a computer. The advantage of Richauto DSP controller is convenient operating and saving computer source. Disadvantage is its small flash memory. It is time costly when reading a big file from USB flash. If your job is mass carving jobs like European style furniture, Richauto DSP controller is not the best choice for you. It is a good choice for jobs of cutting, milling, slotting and small-scale engraving. To order Richauto DSP, please click the picture below.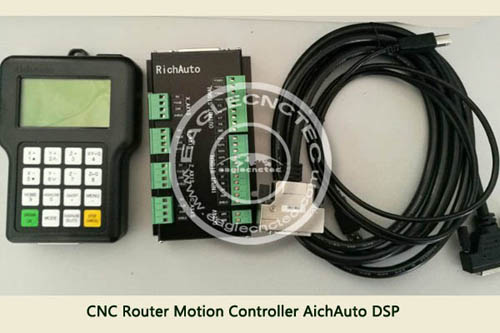 Ncstudio weihong controller system is one PC based cnc motion controller. Oppositely with Richauto DSP, Ncstudio controller will take a computer to run the cnc router machine. In other words, the cnc operator runs the cnc router machine via a computer. Full set Ncstudio controller includes three parts, PCI card, motion card and software. The PCI card is inserted into the computer host, and the motion card is mounted in the electronic control cabinet of the cnc router machine; software is installed in the computer for running the machine. This enables communication from the computer side to the machine side. It is the working principle of ncstudio controller. Ncstudio controller is prior to Richauto DSP on capacity of big files reading because computer flash memory is much bigger than Richauto DSP controller. Furthermore, we can see the toolpath trace during the machine working. It is the best choice for mass carving jobs.
To order Ncstudio controller, please click the picture below.

Are you clear how to choose between Richauto DSP and Ncstudio now? Any question, please contact freely.
Origin article from Jinan EagleTec CNC Machinery Co.,Ltd.
Repost please indicate the source.




【 Go Back 】 | 【 Print 】 | 【 Close this window 】