How to Use Air Ring CNC Router Vacuum Pump
Air ring cnc router vacuum pump, is also known as the name of dry type rotary vane vacuum pump. On cnc router, vacuum pump makes vacuum table work. After you got your new cnc router machine, you may do not know how to use the air ring cnc router vacuum pump. But do not worry, please read below.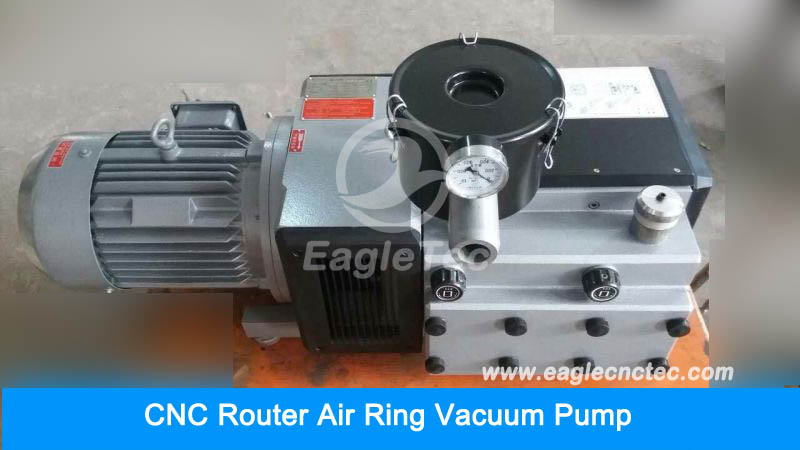 CNC router air ring vacuum pump is dry type, no need work with water or liquid. So all we have to do is two things: wiring and connecting the vacuum hose.


First – Install The Filter And Connect The Vacuum Hose
The air ring cnc router vacuum pump is coming with a filter also. But for reducing the packing size, the filter is taken down before delivery. So after we receive it, we need install it. Please see the guide picture below.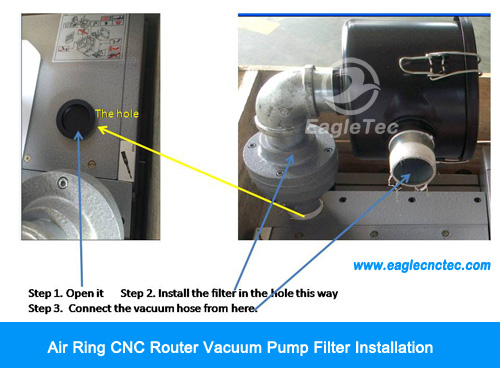 1. Please take down the black cover and the hole appeared is for filter installation.
2. Please install the filter in the hole with tape as the picture shows. The use of tape is to ensure seal performance.
3. Please connect the vacuum hose with the end of the filter as the picture shows. Please use the hose clamp to fix the connection well.


Second – Do Wiring for The Air Ring CNC Router Vacuum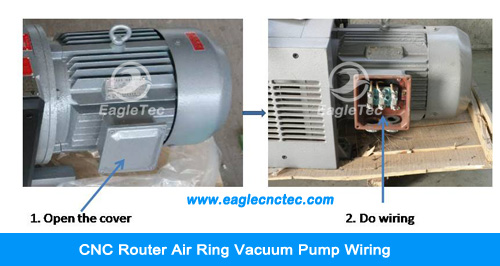 1. Please open the cover by lossen the four screws, and the wiring terminals are appeared.
2. Please do wiring with power supply.


Third- Test the Rotation Direction for the CNC Router Air Ring Vacuum Pump
Please power on the vacuum pump, and to see the rotating direction is the same with the arrow marker which is on the vacuum motor or not. If same, then ok. If not, please exchange any two cables of U V W.
EagleTec is experienced cnc router manufacturer, who also provides full types of cnc spare. Welcome to contact us.
Please click how to use water vacuum pump to get the user manual for water pump.


Original article from Jinan EagleTec CNC Machinery Co.,Ltd.
Repost please indicate the source.




【 Go Back 】 | 【 Print 】 | 【 Close this window 】