Which One is Better, Richauto DSP or Weihong NK105G2? | Buyer Guide
Richauto DSP and Weihong NK105G2 are both very similar controllers in operation and function aspects. They are also widely used in the field of cnc machine. Although similar, there are some differences between the two. Most users will be confused and do not know how to select when they choose between the two. In this post, we are looking at the difference between the Richauto DSP and WEIHONG NK105G2. We believe that you will be able to make the right choices according to your needs after you understand their difference.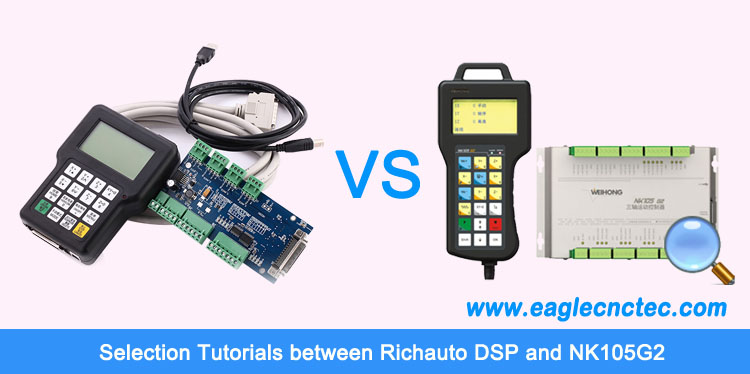 First, let's take a look at their difference on specification by the table below.


| | | |
| --- | --- | --- |
| Item | Richauto DSP A11 | WEIHONG NK105G2 |
| Processor | DSP | ARM11 |
| Memory | 512M | 128M + 256M |
| Display | 128x64 LCD | 128x64 LCD |
| Communication Interface | USB | USB |
| Axis | 3 | 3 |
| I/O Port | 8/8 | 16/20 |
| Spindle Speed Grade | 8 | 8 |
| Continue from Power Off | yes | yes |
| Power Supply | 24v | 24v |
| Manual Mode | continuous, step, inchin | continuous, step |
| Password Protection | yes | yes |
| Language | Chinese, English | Chinese, English |
| Packing List | hand-held remote 1pc, wiring card 1pc, 50 pin data cable 1pc, usb cable 1pc | hand-held remote 1pc, wiring card 1pc, usb cable 1pc |

From the table above, we can see that most items are same. The differences are mainly in these three items: processor type, memory size and I/O port quantity.


Second, according to the feedback of our users, let's look at the performance difference between Richauto DSP and WEIHONG NK105G2.
Stability: The connection between Richauto's handheld controller and 50 pin data cable is connected male and female connectors. So after a long period of time, there may be loosening which will result in CNC router machine not working properly. On this point, NK105G2 is adopted an integrated design to avoid this fault happen. The other thing is that Richauto DSP crashes a little more often than Weihong NK105.


Simulation: Weihong NK105G2 has the function of simulation. By analyzing the file, the system automatically calculates the time required for the processing of the file and the range of the processing of each axis. While, Richauto DSP can analyze the machining time but can not simulate the working range for each axis of the file.

Diagnose: both items has the function of keyboard self test.


Third, let's look at the price difference on both items.
The normal market price of Richauto DSP A11 version is about $320. The normal market price of Weihong NK105G2 – 3 axis version is approx. $485. This shows that NK105G2 is about $165 higher than Richauto DSP.


If any different idea, please advise.
For purchasing the controllers, please contact now !


Origin Post from Jinan EagleTec CNC Machinery Co.,Ltd.
Repost please indicate the source.




【 Go Back 】 | 【 Print 】 | 【 Close this window 】