English Tutorials: How to Do Wiring and Use A Tool Length Calibration Sensor
Many cnc router machines are equipped with tool length calibration sensor. Because with it, the zero point setting of the Z axis become much more convenient. Some users may not know how to use the tool length sensor after receiving the new machine; some other users may not know how to do wiring when replacing a new tool calibration sensor. In this post, we are looking at the solutions to both situations. Hope it is helpful for you.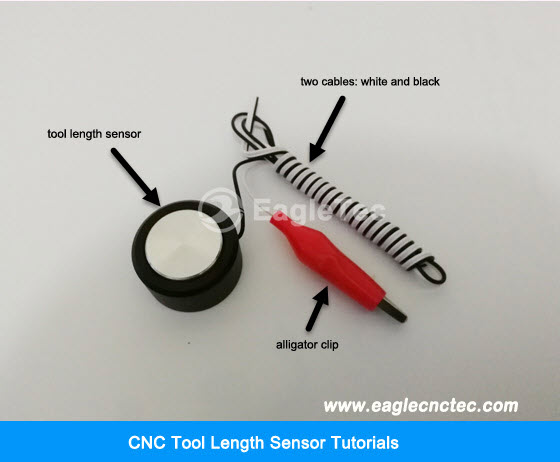 How to hook up a tool length calibration sensor?
There are two cables totally (white and black), the white cable is hooked up to the tool setting port on interface board; black cable is connected to GND port on interface board.


Set up in CNC Controller
After wiring finished. Please measure the thickness of tool calibration sensor with a caliper and input the value into the controller's tool setting parameter.


Tool Setting Operation (Zero-point Setting of Z axis)
After wiring and cnc controller setting finished, it's going to start with the tool setting action. Please fix the alligator clip to the spindle (or on cutter tool) and make sure the spindle is connected to the GND port on interface board. Then execute the tool setting command in the cnc controller, at this point, you will find that the tool(Z-axis) goes down very slowly, and when the tool touches the tool length sensor, the tool setting process is complete.


Important Note
After finished wiring first time, it is better for us to test the tool calibration sensor works or not. Please do this way: power on cnc router, do not turn on spindle motor, do not clamp alligator clip to spindle, please touch the tool sensor with alligator clip by hand and to see if the Z axis has a tool setting action. If yes, then means tool length sensor works. And then perform automatic tool setting.


For purchase the tool length calibration sensor, please click here.


Origin Post from Jinan EagleTec CNC Machinery Co.,Ltd.
Repost please indicate the source.



【 Go Back 】 | 【 Print 】 | 【 Close this window 】