Which CNC Router to Buy? You Just Need Four Tips to Figure Out
4x8 cnc router is the most basic wood router machine, many users are starting from a simple 4x8 single-head cnc router as their first machine. Because there are many brands of cnc router machines on the market at present and the price is different largely, it is very difficult for users to decide which cnc router to buy. In this post, we are going to share four tips guide concerning buy cnc router, hope it is helpful for you.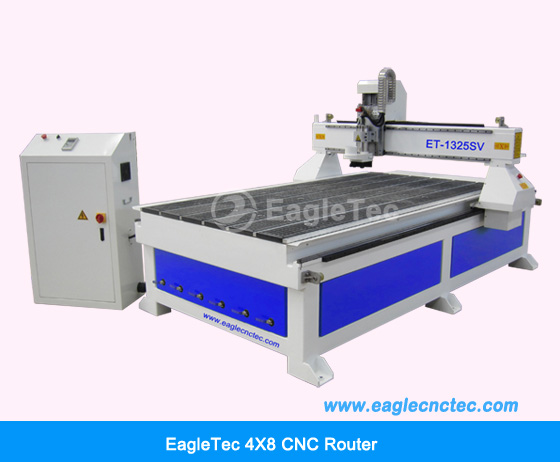 First, should be powerful. The main factor that affects this is spindle motor power. The spindle motor can be divided into air-cooled and water-cooled according to the different cooling ways. The power of water cooling is generally 1.5 / 2.2 / 3.2 / 5.5 KW, EagleTec 4x8 cnc router is normally equipped with 3.2kw water-cooled spindle, which is absolutely enough for woodworking and sign making jobs. Air - cooled spindle power is 3.5 / 4.5 / 6.0 / 7.0KW. Water cooling spindle can hold 12.7mm router bits maximum; while air cooling can hold 20mm maximum. Spindle size should be selected according to material and job features. From all the above, the spindle should be selected carefully when buy cnc router. And it is the first thing you need figure it out. Except spindle, driving motor and driver will also affect power of cnc router, that's what we will look at next tips.


Second, should be fast. Speed and efficiency are important in modern industry. Make it as fast as possible under the condition that spindle power is enough, also need take router cutter capacity and machine service life in to consideration. Quality cnc router should be equipped with big torque motor or servo motor, large driver (example: YAKO YKA2811). The driving system will not burn and will not over-load after long and fast machining process.


Third, should be good accuracy. Precision is the most important parameter of cnc router machine. It is not easy for cnc router to have high speed machining and high accuracy meantime, but it is the feature that a high quality cnc router machine must have. This also tests the production level of cnc router machine manufacturers, criterion is that long hours of good work regardless of carving and cutting, smooth and straight.


Forth, rigidity should be sufficient. Machine construction should be designed reasonable and make it firm. The frame of cnc router machine is like the foundation of a house, it must be firm and not deformed. All EagleTec cnc router frame is via VSR treatment to guarantee the long term good rigidity.


Ready to buy cnc router? Please click to select models you need.

Original post from Jinan EagleTec CNC Machinery Co.,Ltd.
Repost please indicate the source.




【 Go Back 】 | 【 Print 】 | 【 Close this window 】